Visual Novel, Romance Dimensional 2, Multilanguage/Español/English/Français/Português/Others
Recommendations, Recomendaciones, Recommandations, Recomendações
---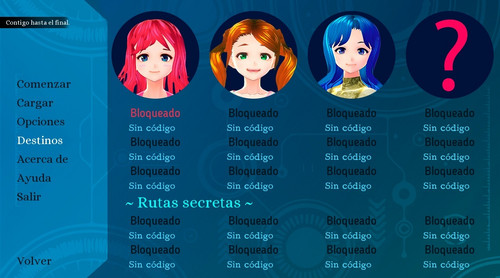 Recomendaciones al jugar.
Una elección puede cambiar tu destino así que te recomiendo guardar ese momento, es posible que quieras cambiar los errores que cometes, algunas elecciones que tomaste en el pasado repercuten en el futuro así que a veces tendrás que ir muy atrás para cambiar el futuro, usa la lógica, no esperes diferentes resultados haciendo lo mismo, piensa diferente.
Elige sinceramente, aunque no siempre obtendrás buenos resultados.
Busca pistas en el menú de destinos, algunos destinos son difíciles de hacer realidad por lo que necesitarás saber algunas cosas.
Recommandations lors de la lecture.

Un choix peut changer votre destin donc je vous recommande de sauver ce moment, vous voudrez peut-être changer les erreurs que vous faites, certains choix que vous avez faits dans le passé affectent le futur donc parfois vous devrez remonter loin pour changer le futur, utilisez Logique, ne vous attendez pas à des résultats différents faisant la même chose, pensez différemment.

Choisissez sincèrement, même si vous n'obtiendrez pas toujours de bons résultats.

Recherchez des indices dans le menu des destinations, certaines destinations sont difficiles à réaliser, vous aurez donc besoin de savoir quelques choses.
Recommendations when playing.

A choice can change your destiny so I recommend you save that moment, you may want to change the mistakes you make, some choices you made in the past affect the future so sometimes you will have to go far back to change the future, use Logic, don't expect different results doing the same thing, think differently.

Choose sincerely, although you will not always get good results.

Look for clues in the destination menu, some destinations are difficult to make true so you will need to know a few things.
Recomendações ao jogar.

Uma escolha pode mudar seu destino, então eu recomendo que você salve aquele momento, você pode querer mudar os erros que você cometeu, algumas escolhas que você fez no passado afetam o futuro, então às vezes você terá que voltar muito tempo para mudar o futuro, use Lógica, não espere resultados diferentes fazendo a mesma coisa, pense diferente.

Escolha com sinceridade, embora nem sempre obtenha bons resultados.

Procure pistas no menu de destinos, alguns destinos são difíceis de se tornar realidade, então você precisará saber algumas coisas.
Get Visual Novel, Romance Dimensional 2, Multilanguage/Español/English/Français/Português/Others