Visual Novel, Romance Dimensional 2, Multilanguage/Español/English/Français/Português/Others
A downloadable game for Windows, macOS, Linux, and Android
The game is 100% free and without advertising.
Visual Novel, Romance Dimensional 1 y 2 Multilanguage/Español/English/Français/Português/ Others
Developing.
✎ Synopsis
You download this game thinking that it is a common game, but you realize that it is an application created to make you travel to the real world of anime, you discover that this world was destroyed and that only you can save them, during your mission you meet some girls and their relatives, you know their pasts and their desires, their attitudes and their ideas, you live moments of romance, comedy, suspense and drama.
Main characters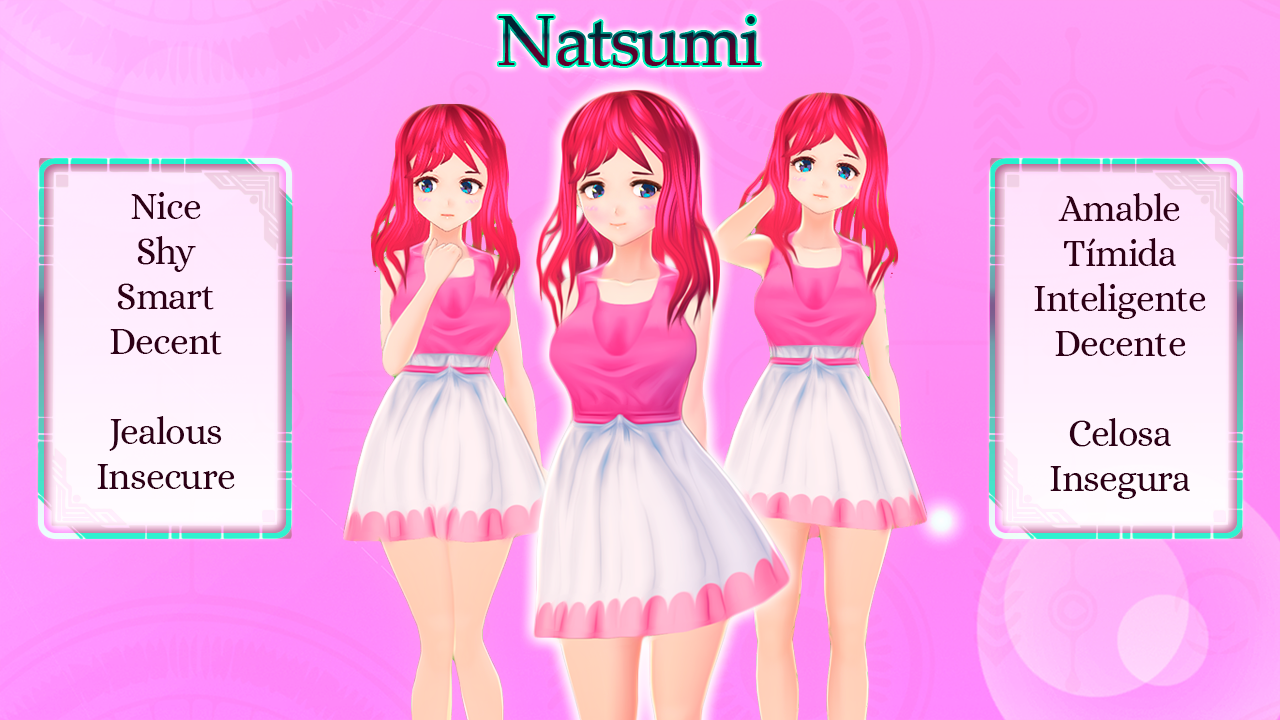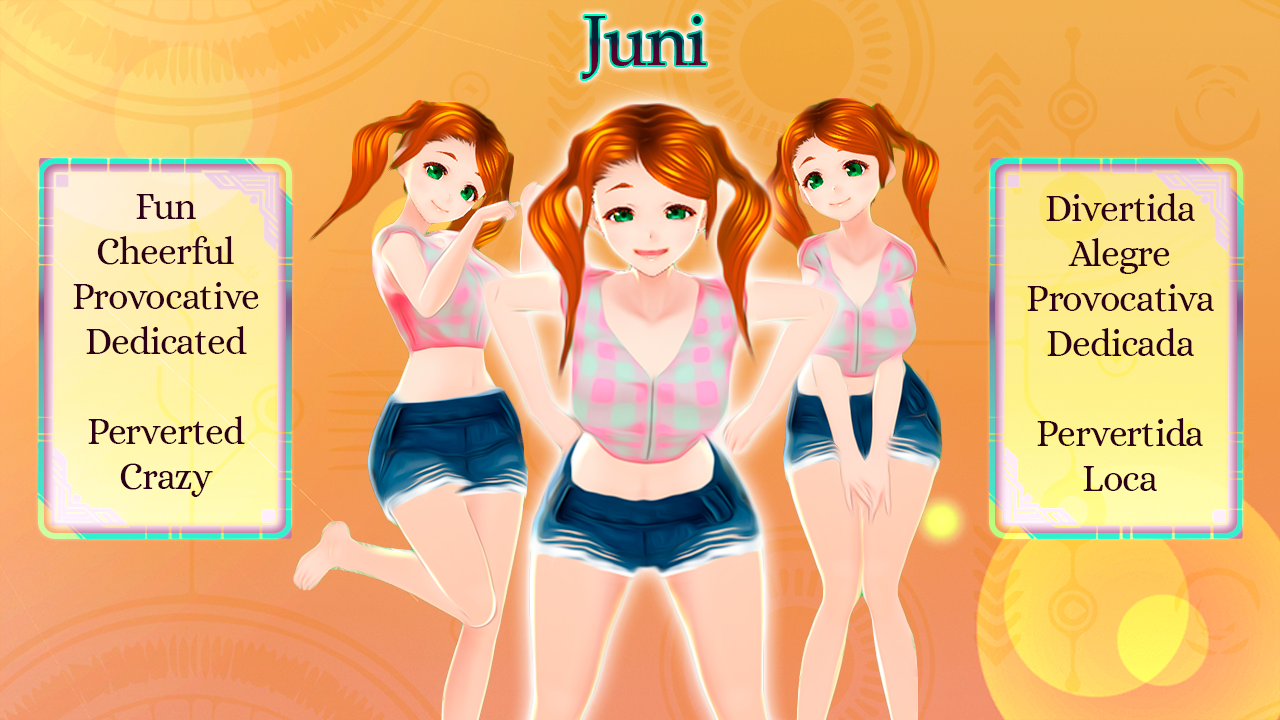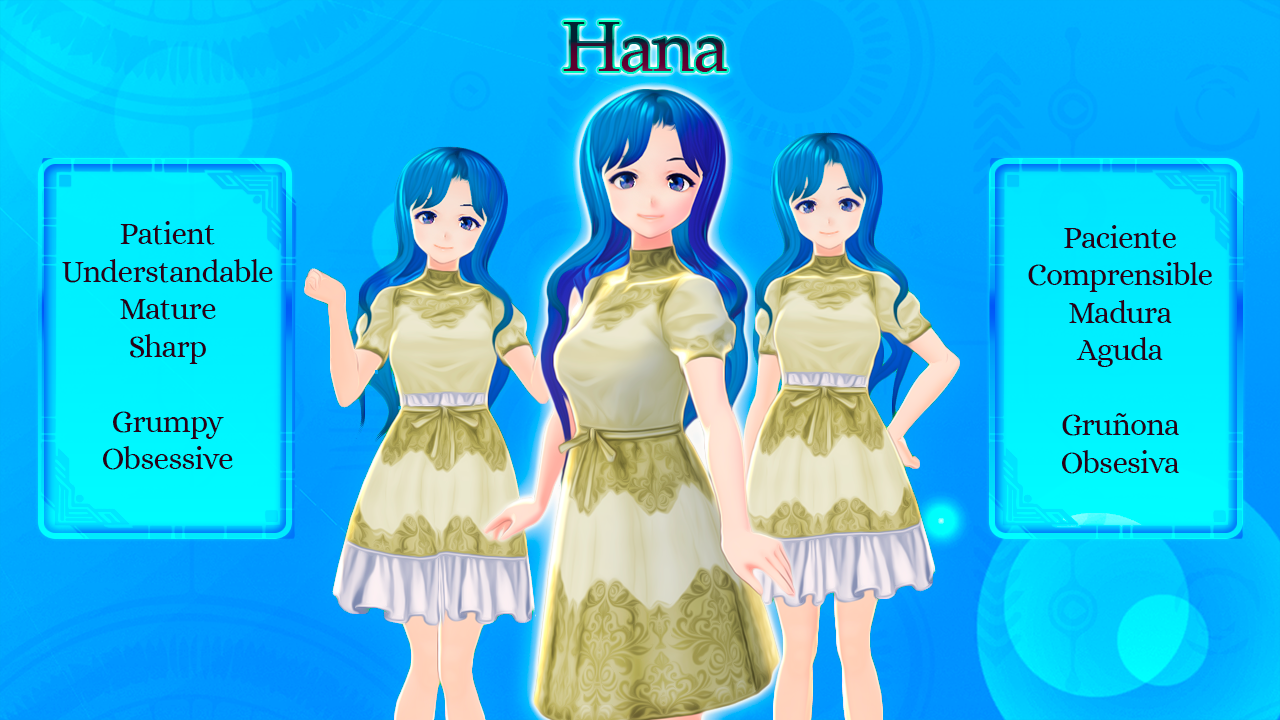 ✦ Answer in more than 200 different ways.
✦ You can take it to more than 20 finals.
✦ Meet more than 15 characters.
✦ Enjoy dialogue with more than 100,000 words.
✦ Discover 13 animated videos.
✦ Enjoy more than 43 perfect songs for every moment. ♬
✦ Imagine yourself with 82 sound effects. ♪
✦ Discover 31 different places.
✦ Several hours of fun.
✦ And a touch of your imagination.
New features.
✦ 8 Different Menus - Unlockable - each route changes the menu
✦ Music Player - Unlockable
✦ Video Gallery - Unlocked at the end.
✦ Routes menu - Unlockable - Shows clues on how to reach some destinations, shows the codes for the third chapter.
✦ Completing the 20 routes unlocks a secret route (fifth wall) that is in episode 1, you can also change the menu, (button below exit)
✦ More animations.
✦ More effects.
✦ Translation and spelling report.
✦ Button to correct dialogues.
Suitable for ages 14 and over.
// In order to please almost everyone, the game contains various thoughts and philosophies that can go for and against your principles, by downloading this game you agree to be of the recommended age, discretion is recommended. //
You can proceed to chapter 3 without problems by entering the code that will be given to you at the end of chapter two, simple code that contains everything you did in chapter one and two.
Each code is unique and will unlock unique conversations in the third chapter, with this code you can continue your destiny on any of the available platforms.
✪ Available in:
Android, Chromebook, Windows, Linux y Mac.
✪ Available languages:
Spanish. 98% corrected.
English. 90% corrected
French. 90% corrected
Portuguese. 90% corrected
Languages almost available.
Japanese 75%, Tagalog 70%, Indonesian 50%, German 75%, Hindi 50%, Russian 80%, Polish 80%, Simplified Chinese% 70, Italian 80%, Korean 70%.
https://github.com/prandygame/RomanceDimensional2_Translations.git

⚠︎ Attention ⚠︎
English, French and Portuguese have not been completely corrected, therefore I recommend you play with one of these options activated, to help correct the text you can easily do so by activating one of these options.
Report bad translation or spelling.
It consists of an almost invisible button on the right side of the dialog box that sends the current dialog to a server for review.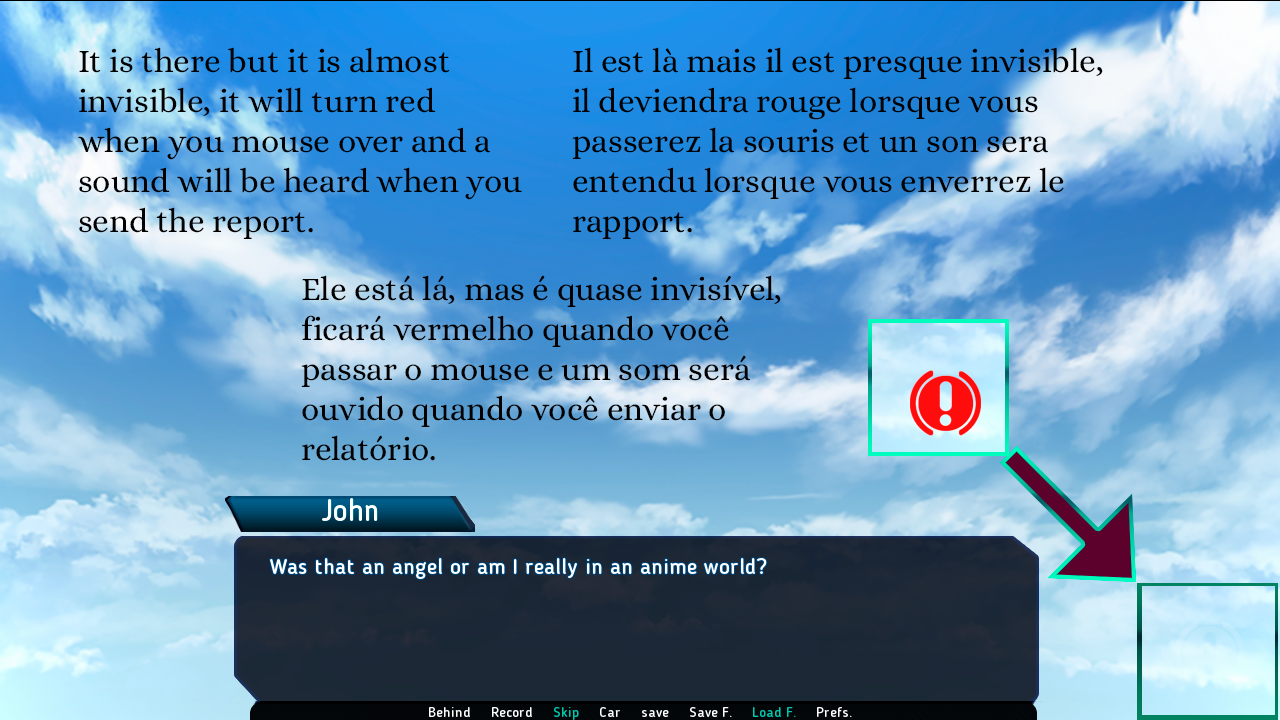 Edit the text directly and send the correction.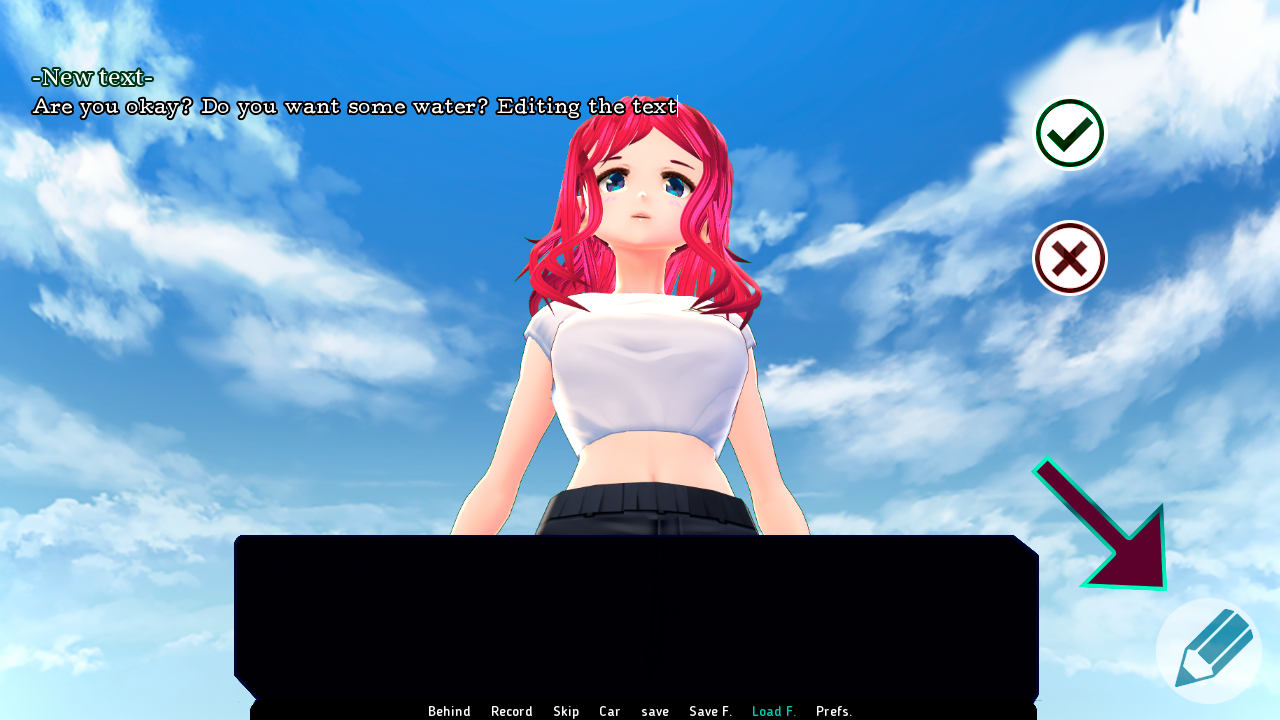 You will be able to correct the text directly in the game and send the correction to a server, the correction will not be visible but it will be added to the next update, these options require an internet connection, so make sure you have the internet activated.
If you want to help using these options, go to https://discord.gg/XHn4ytV, the game is free so you cannot pay for a native translator, but by participating in the fixes, it will be added to the credits in the next upgrade. some conditions apply.
Rate your experience, your rating is important and so is your comment.
The game is 100% free and without advertising.
Would you like to give me a coffee?
https://www.paypal.com/donate?hosted_button_id=HU5C6X9UUH7AE
Or better recommend and share this visual novel.


Únete a la comunidad

Special thanks to Xavimat and Matalla ♡
| | |
| --- | --- |
| Status | In development |
| Platforms | Windows, macOS, Linux, Android |
| Rating | |
| Author | Prandy Game |
| Genre | Visual Novel, Simulation |
| Made with | Ren'Py |
| Tags | comedia, Comedy, Life Simulation, novela-visual, Romance, simulacin, suspense, suspenso |
| Average session | A few seconds |
| Languages | German, English, Spanish; Latin America, French, Hindi, Indonesian, Italian, Japanese, Korean, Polish, Portuguese (Portugal), Portuguese (Brazil), Russian, Tagalog, Chinese (Simplified) |
| Accessibility | Subtitles |
Download
Click download now to get access to the following files:
Android, Chromebook, Simulator, TV.
Comments
Log in with itch.io to leave a comment.
Que paso con el juego ya no va a continuar? :(
Hola, gracias por comentar, el capitulo tres estará disponible si el juego logra alcanzar algunos requisitos, como mas seguidores y más descargas.
increible vaya juego,lo disfrute muchisimo gracias por esta increible historia,los eventos de romance, la comedia, y el soundtrack (no se si esta mal escrito) es genial.Espero inpaciente el capitulo 3 ya que me pase horas intentando sacar todas las las rutas posibles xdxdxd .Y por supuesto me gustaria ayudar con la traduccion a español , en el segundo capitulo cuando mensionan a las chicas en vez de decir anime dice animales lo cual me parecio muy raro jajajaja.Exitos en el trabajo
Muchas gracias por el comentario, existen algunas cosas que debo mejorar no solo en la traducción, pero me alegra que te guste, el capitulo tres podra salir dependiendo la cantidad de descargas y seguidores que el juego genere, ya que costara mucho mas tiempo crear el tercer episodio.
Both the android versions don't work I get an error
Un jeu spectaculaire, j'ai vraiment aimé y jouer, la traduction pourrait s'améliorer, mais tout le reste est génial, bonne intrigue, je le recommande.
Très heureux que vous ayez aimé, merci pour vos commentaires sur la traduction, nous espérons que les natifs pourront à l'avenir aider à la traduction avec certains outils implémentés dans le jeu.
Very perfect game, I love Hana and her personality very much
.
The game has some pt-br translation errors but nothing that gets in the way of the experience,
I loved doing all the scripts.
I also left a comment on Google Play
Thank you for your comment, I am glad that you liked the experience, we hope that the translation will be improved with the help of the native speakers.
This game is very well done the charactrs and stories are fascinating, it is very rare that this game does not have so many followers, I have not finished playing it yet, I do not know how to achieve some routes, it has many routes, although sometimes they seem to repeat themselves but I understand the reason, I hope you can make a guide, the game is very good, they should give it a lot of publicity, I wish you many successes, great work.
I am glad that you liked it, because yes, maybe I will make a guide, although in the destination menu if you click on the blocked destinations you may have some information on how to get that route, however I will have to make a guide, thank you for your comment is very motivating.
Wow! The story is incredible, this game is on another level, I liked the story more than that of Doki doki literature club, it also tries to break the fourth wall, despite having some flaws in the translation, it can convey well what we would do in An anime world, there were many things that surprised me, very epic scenes, especially in the second chapter, the story becomes incredibly interesting, I am already looking forward to the third chapter.
It's good that you enjoy the story, I have not played Doki Doki yet but I have heard what it is more or less about, about the translations we hope that with time it can be improved I am aware of that, thank you for your comment and happy new year.